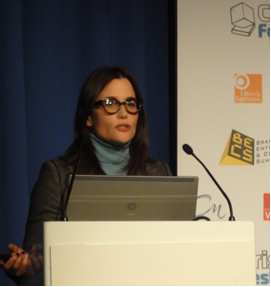 BEO: You developed about 50 new programs for Yahoo! In 2012. 25 !! of them including branded entertainment. What worked best? For which clients? What did you have to consider?
Erin McPherson: Our production team works closely with clients to capture the essence of their brand message. Every day, Yahoo! delivers millions of people's daily habits, from checking sports scores to watching videos, and we are able to put advertisers in the center of those daily habits by providing the right editorial context for their messages. For example, Procter and Gamble's program "The Thread" is programmed on Yahoo!'s women's site, Shine, and features music and celebrity style video. P&G uses this program to market various beauty products to a young, hip female audience on Yahoo! who are already coming to Shine to read about beauty and fashion trends. In Germany, "The Thread" is called "Life & Harmony" and the format is expanding around the globe. So you can see that branded entertainment is a core competency on Yahoo!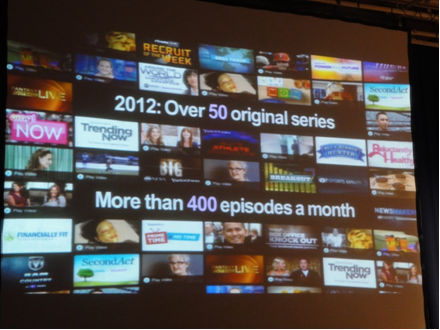 BEO: What are the restrictions for brands to follow context?
Erin McPherson: Yahoo! has editorial guidelines that allow us to bring the best content to a wide audience and brands work closely with us on integrating their messages in a way that preserves the integrity of the program. We work together with the brands to determine the best outcome that respects both sets of restrictions and also takes into account local restrictions, e.g. in France and Germany the rules are not the same as in the US. Each case is unique, each market is unique, and we are flexible because of that.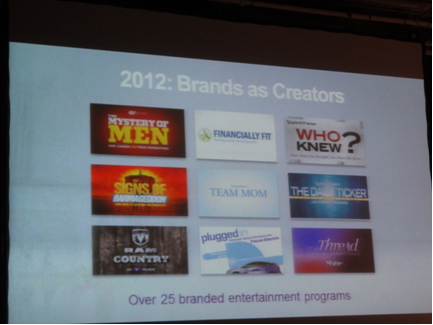 BEO: "Live matters" what did you publish (e.g. the red carpet events) and in which way could brands participate?
Erin McPherson: Live is an effective way to gather audiences and drive awareness online. We excel at live programming around big events; for example, we live-streamed the red carpet premieres of the last two "Twilight" movies, the first installment of "The Hunger Games," the Rolling Stones 50th Anniversary concert, and many more. In the case of the red carpet live streams, the movie studios were the advertisers, but there are ample opportunities for a wide variety of brands to participate. There are also opportunities for brands to deeply integrate with product/brand placement within the live streamed content and purchase media on Yahoo! around the content.
BEO: You said "The world's daily habits" is the direction the brand Yahoo! Focuses on. What does that mean?
Erin McPherson: Yahoo! is already the place people come to for most of their daily online habits — checking email, searching the web, checking stocks/finance, reading news stories, catching up on celebrity/entertainment news, watching videos, and more. We are focused on making those (and many other) daily habits more entertaining and inspiring for our global audience. And we want to help our advertisers become a part of those daily habits too.
BEO: Could you please review briefly on your strategy 2012 and on trends for 2013?
Erin McPerson: Our strategy in 2012 was building out premium video content across Yahoo! and across the globe. And now we are looking to build scale and personalize our video experience – in the US and internationally.
BEO: Thank you for this inspiring interview.
BEO-Autorin Sandra Freisinger-Heinl traf Erin McPherson auf dem Cristal Festival in Crans Montana und führte im Anschluss daran mit ihr das Interview. Sie war begeistert über den Enthusiasmus, mit dem Erin das Portal Yahoo! und das Thema Branded Entertainment aus Producer-Sicht voranbringt.
Die Fotos entstanden während des Vortrages von Erin McPherson.