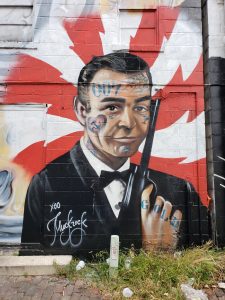 Sean Connery died peacefully at the age of ninety recently in his home on the Bahames. According to his wife Micheline Roquebrune he had suffered from dementia for a short time and the illness finally demanded its tribute. Yet one of his last wishes was to vanish silently and this eventually happened when he felt asleep for the last time surrounded by family members.
Sean Connery became world-renowed as an actor when he played the agent of her Majesty James Bond for the first time in 1962 in "Dr. No". An unprecedented career followed. But he never just relied on his success as the James Bond character. For example, he recieved an Oscar for his role in the gangster thriller "The Incorruptibles". Also remarkable was his appearance as a medieval monk in the film version of Umberto Eco´s novel "The Name of the Rose". Also unforgettable to me was his embodiment of Zed in the epic science fiction fantasy film "Zardoz" in 1974, who in course of the film became a resistance fighter against the ruler Zardoz,
Born in Scottland in poor conditions, Sean Connery left shool early and tried to make his living with varying jobs from milkman to pool supervisor. This very handsome and athletic guy also became the Scottish champion in bodybuilding. His career as an actor began slowly with minor roles. He got his first serios role in the melodrama "Another Time, Another Place" in 1958, when screen goddess Lana Turner selected him to play her lover. This, by the way, caused a crisis in her relationship with her jealous husband, who was a real mobster. Sean Connery´s breakthrough came on a recommendation to the producers of the first James Bond film, Albert R. Broccoli and Harry Saltzman. Upon it they elected him as the lead character, although he was a fairly unknown actor at that time.
For all of his life, Sean Connery always emphasised his roots as being Scottish. Thus he often wore a kilt at public events, such as for example when he was knighted by the Queen. Remarkable is also that he basically spoke his lines with a Scottisch accent, which at that time was often considered as inappropriate by the critics. Sean Connery´s life is a positive example of what somebody can achieve who has a certain amount of talent combined with the guts to consistently go his own way and thereby challange his luck.