Inzwischen sollen über 40 Prozent der ausgewählten Animationen transmedial über mehrere Medienplattformen wie Internet, Mobile, Tablet, Video-Games, etc. verfügbar gemacht werden, so auch fast alle eingereichten deutschen Projekte. Weit über die Hälfte der Cartoons ist auf Kinder bis zwölf Jahre ausgerichtet, weshalb Product Placement-Integrationen in nur in ausgewählten Projekten und Ländern möglich sind.
Europäische Co-Produktionen
Manche der "Projekte im Pitch" kommen aus Studios in einem Land, wie die deutschen Einreichungen ""Cleo Green", "Knightball", "Raven the Little Rascal", "The Inner World" und "The Little Medic". Viele Cartoons sind inzwischen jedoch Co-Produktionen mehrerer Nationen. Deutsche Animationsstudios arbeiten zum Beispiel mit an "Firecat", "Galaxi Taxi" und "Skipper".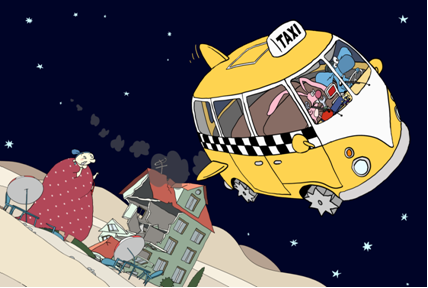 Foto: An "Galaxi Taxi" sind fünf Studios aus vier Nationen beteiligt, für Deutschland ist es "The Big B Animation" aus Berlin.
Deutsche Animation – Chancen in und mit Europa
Um Trends der internationalen Zusammenarbeit zu illustrieren und zu besprechen, welche Anforderungen internationale TV-Sender an Produktionen von heute stellen, wird Deutschland am 18. September auf dem Cartoon Forum wieder zu einer politischen Diskussion einladen.
Der Abend steht unter dem Motto "Deutsche Animation – Chancen in und mit Europa: Quelle für Stoffe und mögliche Geschäftsmodelle", so Christian Müller von Senator Film und wird unterstützt von Nordmedia, MDM, FFHSH, dem Medienboard, der Filmstiftung, der Medien- und Filmstiftung und dem FFF Bayern.
Das Programm und die Awards Cartoon d'Or und Cartoon Tributes
Im Rahmen des Cartoon Forums wird am Donnerstag, den 19.September der "Cartoon d'Or"-Award vergeben, der pan-europäische Award für den besten animierten Kurzfilm. Die Jury wählt vorab sechs Finalisten aus.
Mit den "Cartoon Tributes" werden außerdem "Broadcaster, Investor / Distributor und Producer of the Year" geehrt.
Hier finden Sie weitere Informationen zum diesjährigen Programm.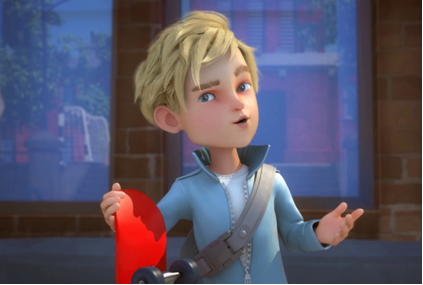 Foto: Die Spannung bei den Produktionen steigt:. Wie wird zum Beispiel "The Little Medic" von den deutschen Studios WunderWerk und BetaFilm ankommen?