… wie Madonna, Mickey Rourke und Guy Ritchie. Damals eine Sensation! Aktuell ging "The Escape" mit Schauspieler Clive Owen als Driver online. Diese moderne Fortsetzung ist eine schöne Hommage von BMW an seine erste Content-Serie in den USA. Hier die neue Folge mit Fahrzeugen der BMW 5er Reihe:
http://youtu.be/jzUFCQ-P1Zg
Über 5 Mio. Views erzielte dieses Video bereits auf YouTube bislang bereits. In 2001 hingegen, als "The Hire" herauskam, gab es noch keine Social Media, YouTube Channels oder Apps auf Smart Phones, die die Verbreitung einfach machen.
Die Möglichkeiten Kurzfilme online anzusehen war bereits durch die Limitierungen der Technik begrenzt. Trotzdem ging Jim McDowell, VP und Chief Motorer für BMW und Mini in den USA und heute in Rente, damals mutig diesen Weg. Er beschloss seinen 30 Mio. Dollar-Werbeetat komplett in Branded Content zu stecken. Sehr lange bevor man diesen Content als Branded Content bezeichnete und sehr lange vor dem heutigen Content Marketing-Hype.
Es war die Zeit, in der James Bond Z3 fuhr. Aber für den entstehenden Branded Content galt: "The Car was our Star", so McDowell. Es war ausschlaggebend in den Filmen eine Story zu erzählen, die die Menschen wirklich sehen wollten, mit Stars, die sie kannten. Eine visionäre Entscheidung für eigenen filmischen, nicht werblichen Content, die sich für BMW USA auszahlte.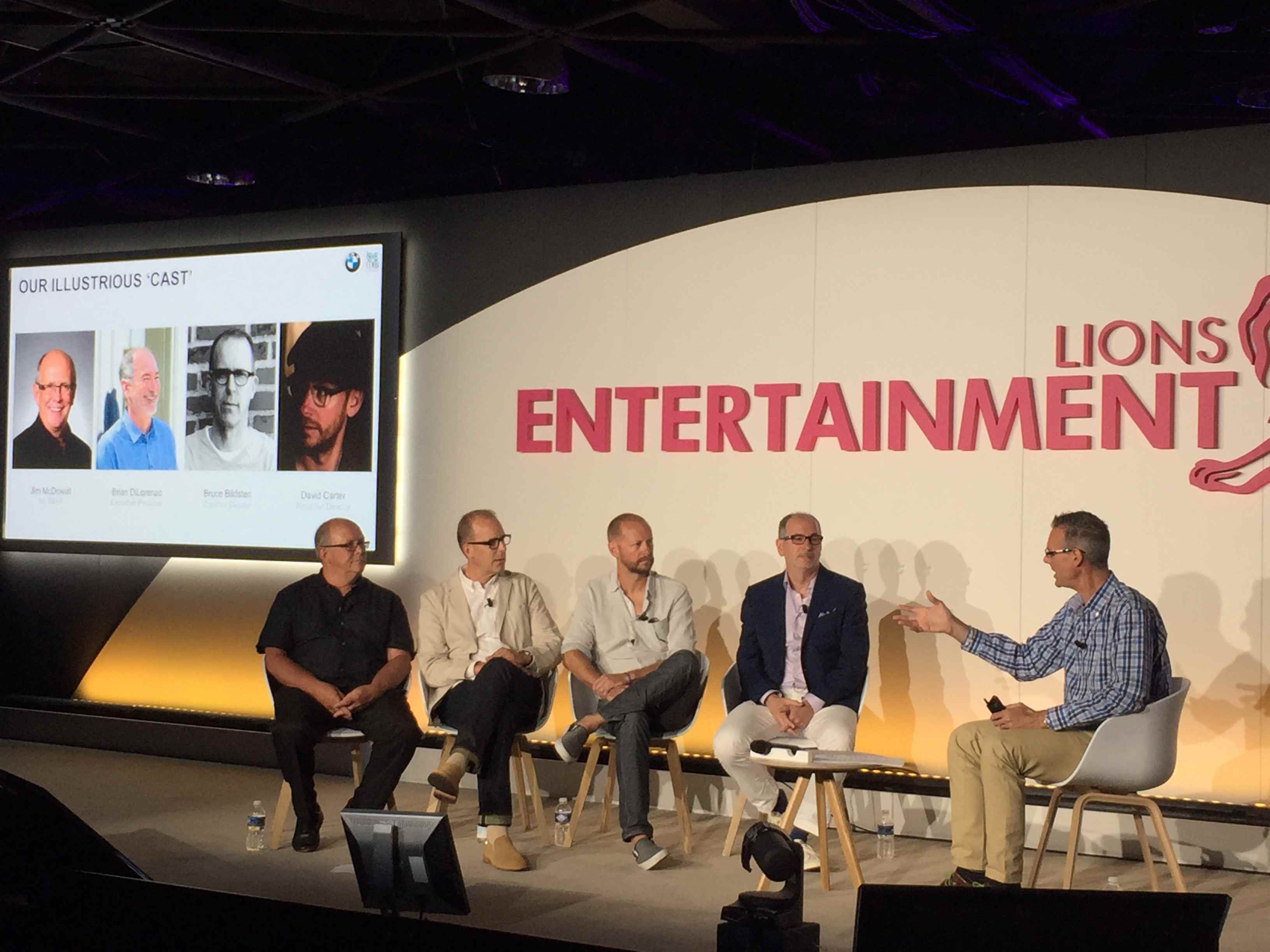 Linkes Bild: Auf dem Panel "Back to the Future of Branded Content" bei den "Lions Entertainment" in Cannes diskutiert Andrew Canter, Global CEO BCMA Branded Content Marketing Association (rechts im Bild) mit "Mr BMW" Jim McDowell (links im Bild) und mit den Kreativen Bruce Bildsten, Brian DiLorenzo und David Carter, darüber wie sie die BMW Kurzfilme ins Leben riefen. Rechtes Bild: Das original Storyboard für die Folge "Beat the Devil", mehrfach überarbeitet.
Hier können Sie die acht Kurzfilme aus der Reihe "The Hire" ansehen, mit viel Action und richtig gutem Storytelling:
Und noch soviel dazu: Die Rolle des Drivers hatte auch bereits in "The Hire" der, damals jedoch noch weitestgehend unbekannte Clive Owen, übernommen.
Foto: BEO / SF
BEO-Autorin: Sandra Freisinger-Heinl