… und greifen wichtige digitale Themen wie Bewegtbild, Mobile und Data auf.
Beim Nighttalk in Hamburg wird es um das Thema "Data" gehen. Dort treffen sich die Experten Wolfhart Fröhlich, CEO intelliAd Media, Karim H. Attia, CEO nugg ad, Peter Beuke, VP Marketing and Communications IBM Deutschland und Bernd Hoffmann, Chief Digital Officer MediaCom um miteinander zu diskutieren. Hier geht's zur Anmeldung
The Magic Formula of Mobile Marketing in München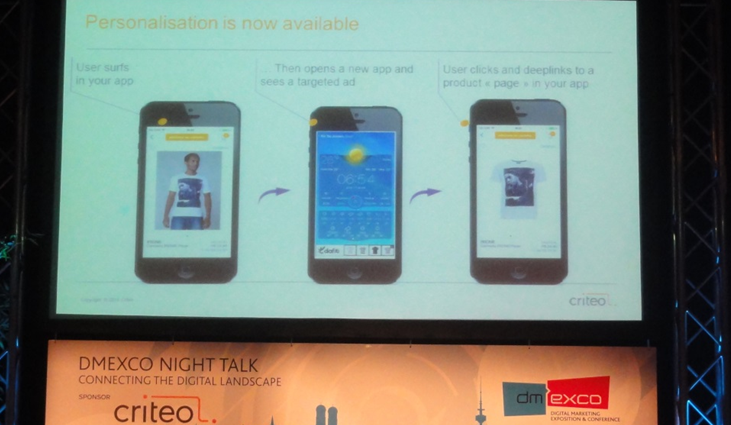 BEO war beim Mobile Night Talk in München mit dabei, als an einem heißen Sommerabend im Mai, als die Freiheizhalle brechend voll war, um den Referenten zum Trend-Thema "Mobile" zu lauschen. Noch heißer wurde es dann, als Pyrotechnik den "heißen Stuhl" in Flammen erstrahlen ließ! Doch Referent Jonathan Wolf, Chief Product Officer Criteo, hielt den gezielten Fragen trotzdem Stand und reagierte schnell.
Er benannte die drei "großen Hürden" auf dem Weg zum digitalen Erfolg, die mittlerweile weitestgehend genommen wurden:
1. Mobile Browser und mobile Apps
2. "Spray and Pray", also viel reinzugeben und nicht genau zu wissen, was man dafür erhält (sein ironischer Vergleich hierzu traf übrigens die "TV-Spots")
3. Lack of Standards
An allen wurde in den letzten Jahren hart gearbeitet, so dass es nun Sinn mache, Budgets in den Wachstumsmarkt Mobile Marketing einzuplanen. Gerade die Möglichkeit nur personalisiert und zielgerichtet mobile Ads einzublenden, sei ein großer Schritt.
Die nächste Herausforderung sieht er im Cross-Device Tracking. Derzeit könne man noch schwer feststellen, dass es sich um den gleichen User handelt, der den Shop einmal mit seinem Handy, einmal mit dem Tabloid und ein ander Mal auf dem Laptop besucht hat.
Daran schloss sich eine Diskussionsrunde mit Berhard Falck, Head of Online & Mobile Marketing Autoscout 24, Michael Dunke, CEO Mediabrands und Alexander Gösswein, MD DACH Criteo, an, in der es vor allem um die praktische Anwendbarkeit des Mobile Marketing ging. Michael Dunke verwies zum Beispiel auf eine App, die Automarken erkennen kann, ein "shazam für Autos", das einen Mehrwert bieten könnte. Die Runde war sich einige, dass es für den Erfolg wichtig sei, nicht einfach die Werbung aus dem restlichen digitalen Bereich in Mobile einzusetzen, sondern Intelligente Werbemöglichkeiten speziell für Mobile zu schaffen.
Fotos: BEO/SF
BEO-Autorin: Sandra Freisinger-Heinl