Die Referenten
Treffen Sie vor Ort die Speaker von Brands und Agenturen, Kreative und Spezialisten aus dem digitalen Business wie zum Beispiel: Asmita Dubey von L'Oreal, Ademar Howlett Marketing Director GB&I Coca-Cola, Visual & Tattoo Artist Henry Hate , James Morris Global CEO Stink, Jason Gonsalves CEO McGarry Bowen, Jason Romeyko Worldwide Executive Creative Director Serviceplan International, Jonathan Hammond Head of Unilever Foundry, Kat Han, Regional Head of Creative Shop Facebook EMEA. Marianna Ghirlanda, Head of Agencies Google Italy, Stuart Hardy, Director of Executive Education Berlin School of Creative Leadership und Victor Knaap Main Monk MediaMonks.

Die Award-Show
Awards in 23 Kategorien werden vergeben, unter anderem auch in der Kategorie "Entertainment" in der der Grand Prix im vergangenen Jahr an "Modern Essentials By Beckham von H&M" ging.
Die Entertainment-Jury
Jury President der Entertainment-Jury ist Mark Adams, Senior Vice President, VICE Media UK.
Die weiteren Mitglieder sind:
Nils Rottsahl, Head of Edelman.ergo STUDIOS & Executive Producer, Edelman.ergo Germany
Alexandra Ouzilleau, Global Head of Entertainment Partnerships, Havas Global
Gabriele Caeti, Creative Director, We Are Social Italy
Mandy van der Wal, Director Online Video, Telegraaf Media Groep The Netherlands
Rebecca Rumble, Associate Creative Director, Head of Motion, R/GA UK
Daniel Robey, Founder & CEO, Think Jam UK
Das Programm
Die Vorträge und Workshops an drei Tagen bieten unter anderem die Vorstellung eineiger Branded Content-Cases und Branded Entertainment-Tools: einen Crash Kurs in Brand Storytelling, einen Creative Writing Workshop, The Superhumans Story, Dynamic Creativity: The Quickest Workshop Ever, Stores as Storytelles: Retail is Your New Favourite Magazine, Into the Future of Immersive Content, Doors of Thrones und vieles mehr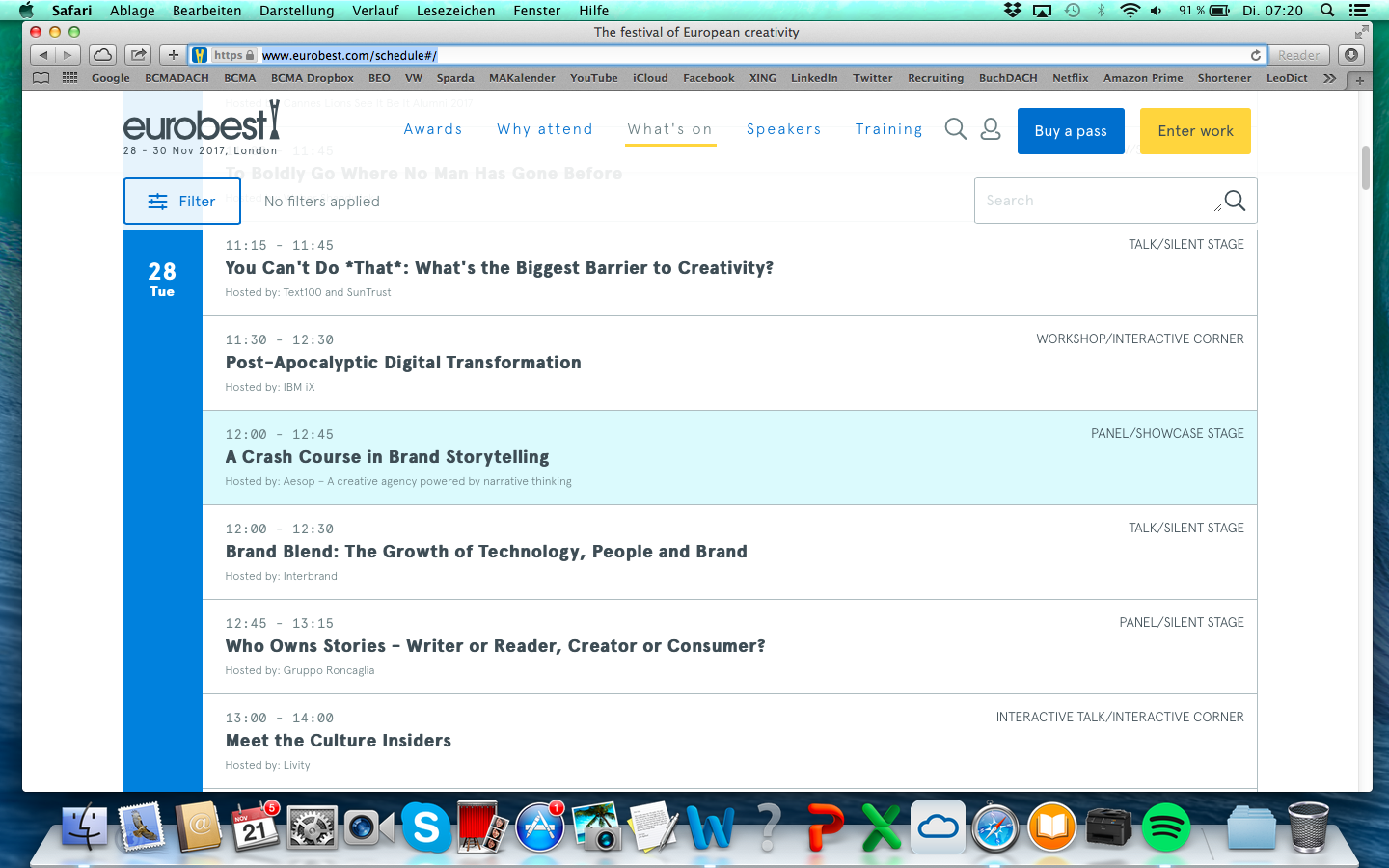 Die Tickets
Die Veranstaltung findet im Victoria House Basement in Central London statt. Tickets für Profis, Young Creatives und Studenten gibt es hier
Fotos: Eurobest Website
BEO-Autorin: Sandra Freisinger-Heinl