Dieses Beispiel zeigt ein ausgeklügeltes Branded-Entertainment-Konzept, das von Saville Productions, Los Angeles, für die Platzierung von Markenbotschaften auf werbefreien Streaming-Plattformen entwickelt wurde.
Shopify ist eine E-commerce Software mit der kleine und mittelständische Händler selbst Online-Shops erstellen und die Logistik auslagern können. Deshalb postuliert Shopify, das Unternehmertum die Macht habe, um Leben zu verändern und möchte daher junge Menschen weltweit ermutigen selber Unternehmer zu werden.
Um diese Botschaft an ein größeres Publikum zu kommunizieren setzt man auf ein durchdachtes Kommunikationskonzept. Shopify hat ein eigenes Studio gegründet und in einer Partnerschaft mit Saville Productions und den Regisseuren Daren Forster und Cristina Costantini ("Science Fair") eine Dokumentation über einen spannenden Wettbewerb erstellt. Der Film "Own the Room" zeigt die bunt gemischte Bandbreite von Unternehmertum junger Studenten rund um den Globus.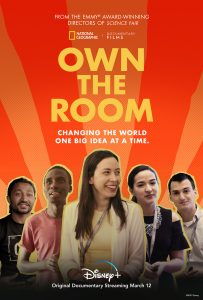 In der Dokumentation sieht man, wie fünf Studenten aus verschiedenen Regionen der Welt ihre Geschäftsidee bis nach Macau bringen, um an den Global Student Entrepreneur Awards teilzunehmen.
Der Film wurde auserkoren und beim Hot Docs Canadian International Documentary Festival erstaufgeführt und von Disney+/National Geographic im Rahmen des größten Nonfiction Deals 2021 erworben. Als erste von einer Marke gesponserte Dokumentation überhaupt, hatte der Film im März 2021 auf der Disney+ Plattform Premiere vor einem Mainstream-Publikum.
"Own the Room" ist aktuell 100% frisch auf Rotten Tomatoes. Die guten Bewertungen generieren traffic zu Disney+, wo "Own the Room" prominent auf der Landingpage für alle 100M+ Abonnenten zum Streaming bereitstand.