"The state of the entertainment industry"
(Musik, Filme, Bücher, Games) produziert und die ganze Branche insgesamt wächst und gedeiht – mehr denn je. Seine Argumente:
Die Entertainment Industrie argumentierte seit Jahren, dass die Produktion von Kulturgütern noch ganz zum Stillstand kommt, wenn das Urheberrecht nicht besser geschützt wird, da die Kreativen keinen Anreiz zur Produktion von Kulturgütern mehr hätten. Mike Masnick ist hier anderer Meinung – die Zahlen sprechen für ihn:
Umsatzentwicklung der Entertainment Industrie weltweit:
1998: $449 Mrd. 2010: $745 Mrd
Entertainmentkonsum je Haushalt: 2000-2008: + 15%
Anzahl der Angestellten in der Entertainmentbranche: 1998-2008: +20%
Anzahl der unabhängigen Künstler: 1998-2008: +43%
In der folgenden Übersicht fasst Mike Mansick die Statistiken der Industrie, Zahlen aus öffentlichen Studien und einige Case Studies wie folgt zusammen: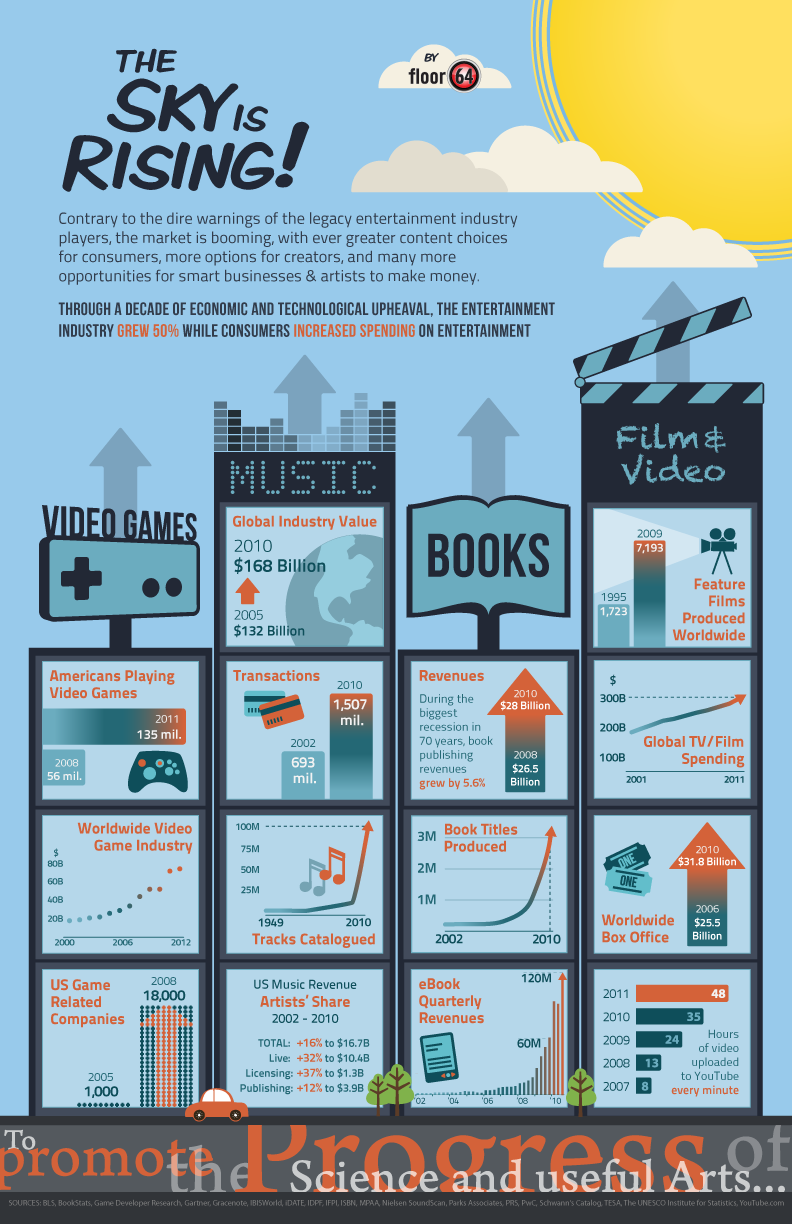 Die Musikindustrie z.B. befinde sich unbestritten in einem starken Wandel, da der Markt mit neuen Optionen regelrecht explodiert. So verdienen aktuell viele Künstler das meiste Geld nicht mehr mit dem Verkauf von physischem Merchandise, sondern mit der Vermarktung der eigenen Person – auf Events, Awards, Commercial etc. , so Masnick. (Anmerkung der Redaktion: Eine schlechte Entwicklung für introvertierte Künstler). Ein paar Zahlen:
Umsatzentwicklung Musikbranche weltweit: 2005 $132 Mrd. 2010: $168 Mrd.
Umsatzentwicklung Events / Konzertkartenverkäufe: 1999-2009: +300%
Künstler kriegen mehr % von Events, Licensing etc, als bei Record Sales (15%)
Dass der Entertainmentmarkt wächst und gedeiht freut natürlich auch alle Branded Entertainment Befürworter, da die notwendige Grundlage somit gegeben ist.
Mehr zum Thema: weitere Studien über die relevanten Märkte
Die komplette Studie gibt es hier zum Download.
Quelle:  http://www.wired.co.uk/news/archive/2012-02/23/the-sky-is-rising