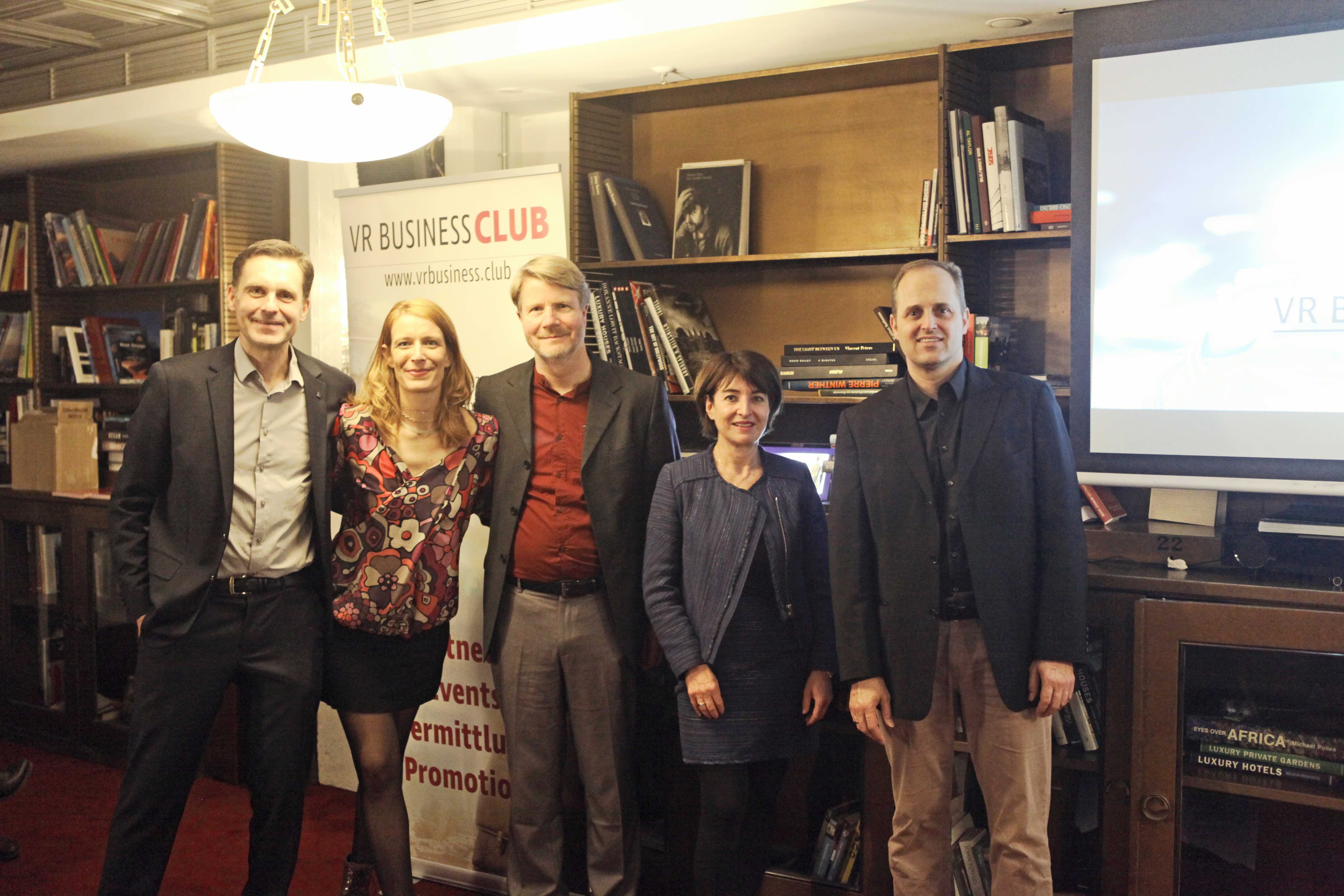 Kick-off in Berlin: BEO-Autorin Maren Courage, VR Business Club (2. von links) mit Veranstaltern der MIPTV, Laurine Garaude Fernsehdirektorin (2. von rechts)
Passenderweise in einer Atmosphäre wie in einem heimischen Wohnzimmer lancierte die Reed Midem, Veranstalter der MIPTV, die Zusammenarbeit mit dem VR Business Club.
Vier Unternehmen präsentierten den fast 70 Teilnehmern ihre Projekte und vermittelten einen Eindruck von den Möglichkeiten, welche die Technologie für das "Fernsehen von Morgen" bereithält. Sie hatten die vom Virtual Reality Business Club organisierte Ausschreibung zur Teilnahme am "VR Germany Hub" bei der MIPTV gewonnen und dürfen nun mit Unterstützung von Microsoft und Staramba in Cannes teilnehmen und sich dort dem internationalen Fachpublikum präsentieren.
Die vier Gewinner-Startups sind: AnotherWorld GmbH (Berlin), evrbit GmbH (Köln), Magic Horizons (München) und MiriquidiFilm- The Lab (Potsdam).
Die "VR Germany-Kampagne" hat zum Ziel deutsche VR-Unternehmen durch einen gemeinsamen Auftritt im "Innovation Hub der MIPTV" zu größtmöglicher Aufmerksamkeit zu verhelfen. Der "Innovation Hub auf der MIPTV" ist der Ort, wo die Onlinewelt auf die klassische Entertainment-Industrie trifft. Hier wird der Blick in die Zukunft des Fernsehens geworfen: nicht nur WAS wir gucken, sondern auch WIE wir gucken wird hier demonstriert.
Oliver Autumn und Maren Courage, die Founder des VR Business Club, moderierten durch die hochkarätige Veranstaltung und für die Gewinner der Ausschreibung gab es rote Rosen und einen großen Applaus! Zum Ausklang des emotional geladenen Talks kam Microsofts Experte Oliver Bittis noch zu Wort und sprach mit uns über die neuesten Insights der Mixed Reality Strategie von Microsoft und darüber wie sich der Markt für Endgeräte und Inhalte im Jahr 2018 entwickeln könnte.
Neu bei der MIPTV in 2018: CANNESERIES
Zudem präsentierte die Fernsehdirektorin der Reed Midem Laurine Garaude das neue Serienfestival CANNESERIES und einen Ausblick auf die weiteren Highlights der diesjährigen MIPTV.
Den Auftakt zum Wettbewerb der CANNESERIES wird ein Screening der Serie "The Truth About the Harry Quebert Affair" mit Patrick Dempsey (Grey's Anatomy, Bridget Jones Baby), Ben Schnetzer (Snowden, Pride) und Kristine Froseth am 7. April darstellen.
Die MIPTV 2018 wird vom 9. bis 12. April in Cannes stattfinden. Sie ist mit über 11.000 Fachbesuchern jedes Jahr einer der wichtigsten TV-, Film- und Online-Contentmärkte der Welt und bringt Produzenten, Einkäufer, Distributoren, sowie Kreative und Technikvisionäre zusammen, um Projekte zu handeln, neue zu initiieren und zu finanzieren und die Zukunft des Contents zu gestalten. Mehr dazu finden Sie hier

Fotos: MIPTV
BEO-Autorin: Sandra Freisinger-Heinl